We are happy to inform you that ArtisGL 4.0 is released and available for free download from Windows 10 Store.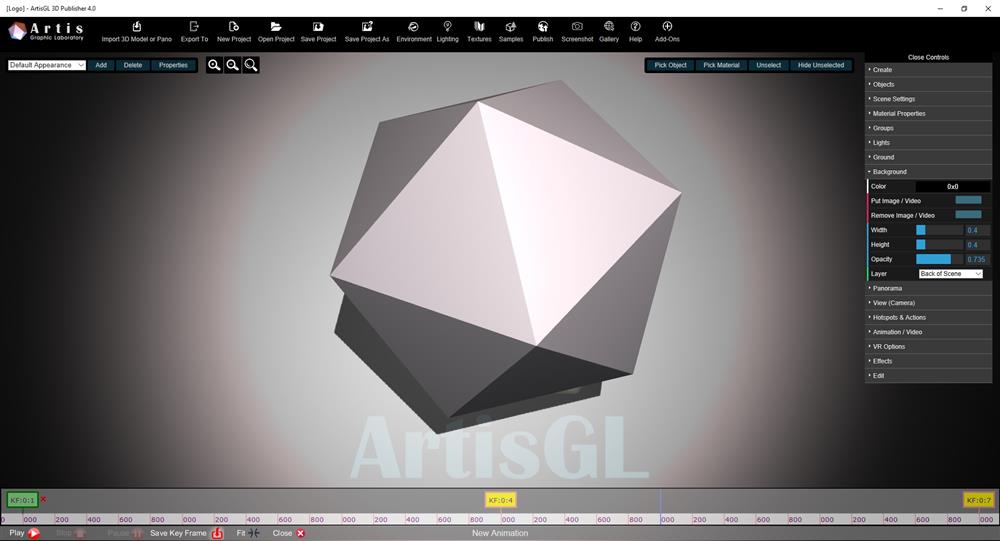 Enjoy powerful features of real time rendering and publishing. ArtisGL 3D Publisher allows users to create and edit VR ready 3D scenes with multiple 3D objects, publish interactive 3D content to the web, create HQ images and 360 panoramas, create 3D animations and generate HD quality video, export 3d content to OBJ, STL, GLTF 2.0, posting GLB 3D files to Facebook, print 3D models and much more.
The following new features and improvements are available within version 4.0



         * Advanced security of published 3D models (256-bit AES encryption). (original 3D formats are never published to the Web)
         * Importing and editing multiple objects in a single scene
         * Primitive objects creation directly in ArtisGL
         * 3D Text generation
         * Video texturing
         * Realistic trees and grass generator directly inside ArtisGL
         * Background and foreground image/video support
         * Improved loading and rendering speed of published 3D scenes
         * Up to 5 million (in free version) and 10 million polygons (in paid version) are supported in single scene
         * Possibility to move/scale/rotate/clone multiple objects in a single scene and various appearances modes
         * Predefined multiply lighting schemes support
         * Per-material real mirror and animated water effects on selected space
         * Animation tracks creation with multiple objects movement/rotation/scaling together with multiple presentations mode
         * Improved lights and render engine
         * Export to OBJ, STL, GLTF 2.0 or GLB, with possibility to export objects and/or environments.
         * Publishing to Facebook 3D Posts (3MB limitation of size)
         * Private link publishing
         * Powerful Project Manager window
         * New Autodesk Revit, Blender and 3DS Max plugins
         * ArtisGL paid plan cost is decreased to 14.99USD monthly
         * Custom Enterprise plan and custom API support
More amazing features, such as skeleton FBX animation, audio support and others are coming soon in version 4.2
Follow our news on ArtisGL portal
ArtisGL 3D Publisher - Online, Real-Time and Interactive 3D Models
See pricing plan details here https://artisgl.com/pricing
Download for free: https://www.microsoft.com/en-us/store/p/artisgl-3d-publisher/9mz5g32q9zgw?rtc=1