Free version of ArtsGL 3D Publisher has been acquired by over 10,000 users.  
For the moment ArtisGL 3D Publisher one of most popular products under Multimedia Design category of Windows Store. 
Enjoy ArtisGL 3.5, download it for free from Windows 10 Store
       * Animation support for camera, lights, environment, effects and 3d model's rotation/position
       * Video exporting with SD/HD/FullHD resolution (Add-on required)
       * High resolution image processing (Add-on required)
       * High resolution 360 panorama exporting (Add-on required)
       * First person camera and collision effects (Add-on required)
       * Autodesk Revit Plug-in for 2015,2016 and 2018 versions. Click here for more details.
       * Better rendering
       * Faster effects
       * Produce Virtual Realty Headsets ready content
See updated HELP for more details.
You can render in real-time, publish to WebGL, promote for free, animate, share, and print your 3D scenes and models. All content is Virtual Reality ready. 
Please note: chargeable Add-on installation required for full access to some functions. Without Add-on watermark will be present on videos and high resolutions images.  We are also working to support FBX skeleton animations. Option will be available under Add-on without price changes.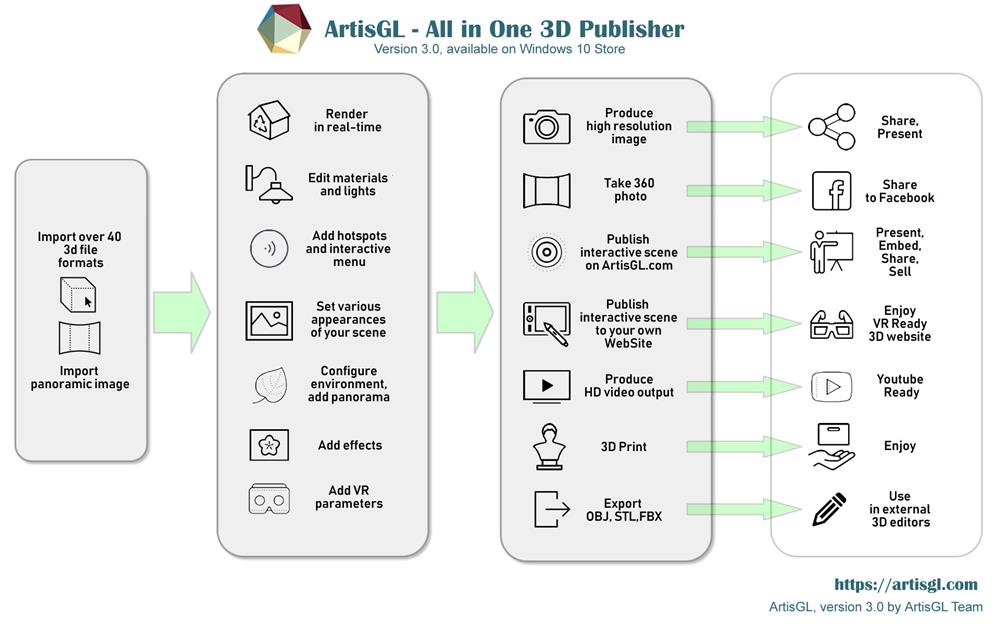 Here are sample videos generated by ArtisGL
Interactive animation example