New version of ArtisGL implements advanced concept of 3D publishing. Create, render, share, print and publish 3D content over the world. ArtisGL is a powerful real-time rendering engine which produces various presentation-ready results. You can render in real-time, publish to WebGL, promote for free, animate, share, and print your 3D scenes and models. All content is Virtual Reality ready.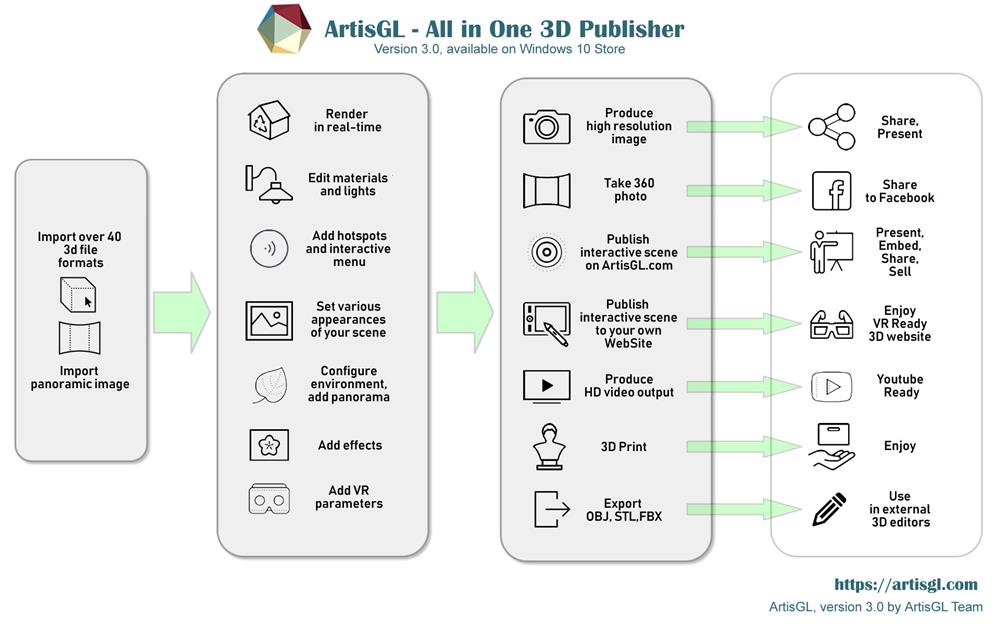 New functions in version 3.0
Please note: Add-on functions are under development now and will be available for sale soon.
Material Grouping
Custom and Editable Light Sources
Static viewpoint dependent Light Source
3D Printing
High resolution image (Add-on)
360 photo from current view (Facebook 360 sharing compatible)*
WebVR support
Custom mapping options
Video output (Add-on)
Export as (Add-on)
Walking mode camera (Add-on)
Camera Field of View
Depth of Field Effect
ArtisGL 3D Publisher has the following powerful editing and publishing options:
* Function is temporary available for free. We are improving the function now to new resolutions and better quality, so in future versions it will be available with coming Add-ons.
ArtisGL 3D publisher is available for free download from Windows 10 store
 For more details visit HELP section
REAL-TIME RENDERER & LIGHTING

MATERIALS

 

Real-time rendering

Physically based rendering pipeline

Environment reflections

Ambient occlusion

Refraction

Image-based lighting

Directional, point, and spot lights

Soft shadows

Normal mapping

Static on-camera light

 

Material grouping

Material extraction for object's elements

Common material editor

Maps:Texture Map, Bump Map, Normal Map, Environment Map,

Roughness Map, Metalness Map, Ambient Map, Opacity Maps

Blending options

Translucency options

Automatic UV mapping calculations

UV tiling and offset regulation

Wire-frame, Flat,Smooth and various shader options

Custom textures library

INTERACTIVITY

CAMERA

 

WebVR ready content

Interactive hotspots

Interactive menu items

In-browser color changing options

In-browser camera navigation options

Multiple appearances generation for each scene

Interactive appearance menu

Hints

 

Field of View regulation

Multiple cameras manager

Object viewing camera

First-person camera (add-on)

Depth of field (add-on)

Tone mapping

Camera animation (add-on)

ENVIRONMENT

EFFECTS

 

 

Contrast, Brightness, Hue, Saturation

Blur, Sepia, Luminosity

Bloom

Ambient Occlusion

Particles: rain, snow

Depth of Field

 

IMPORT AND EXPORT

PUBLISHING TARGETS

 

Import over 40 3D models

Models merging during import

Save as ArtisGL Project

Export to .OBJ,STL,.FBX (add-on)

 

Publish and promote your models on ArtisGL.com




(WebGL and WebVR ready)

Publish panoramic image to the Web

Publish interactive scene to local WebSite (WebGL and WebVR ready)

Deploy to PC and mobile platforms

Produce high quality screenshot

Generate 360 Facebook-ready image

Produce HD video output (add-on)

3D Print

 

OTHER OPTIONS

FREE HOSTING AND MODELS HUB

 

Add-ons library

GLSL shader support

ArtisGL per-customer needs customization

Skeleton and Camera animation add-ons

 

Free hosting on ArtisGL.com models for each ArtisGL 3D Publisher user

Free promotion of your models

Free profile information with user website information

Possibility to put direct link to model's download or selling page

Contact to user option

Search for free or paid models online