View Menu (Camera)
View menu allows to manage and save cameras of the scene.
Please not that Walking Mode camera and Collision option are available as extended options from Add-Ons section.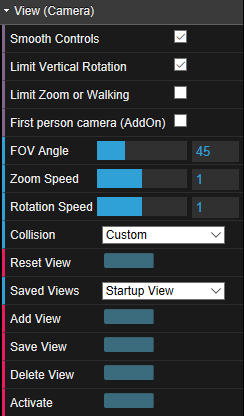 •Smooth Controls - enables smooth animation effect while rotating the scene by mouse
•Current view of scene can be added to list by Add View option and later can be recreated by pressing Save View.
•FOV Angle controls Field of View camera angle.
•Speed options can be changed to adapt camera moving speed to your needs.
•Limit Rotation will limit camera rotation to floor.
•Limit Zoom will fix camera Zoom in-out option automatically depending on Object's scale.
•First person camera (requires Add-on) will change camera to walking mode
For collision effects see next section
Created with the Personal Edition of HelpNDoc: Free iPhone documentation generator