Editing Hotspot
Selected hotspot can be edited.
Description of hotspot will become as HINT in published scene, when user moves mouse over the hotspot.
If description is empty then hotspot will generate default hint.
Also each hotspot contains the following properties
•Name - name of hotspot
•Description - defines hint of hotspot
•Action - which action to perform when user clicks on hotspot
•Attached view – defines to WHICH camera navigate if hotspots should be perform navigation
•Appearance – defines to WHICH appearance scene should be change if hotspots needs to change appearance
•URL – which URL will open if hotspot action is URL based
•Color – change color of hotspot
•Size – change size of hotspot
•Opacity – control opacity of hotspot, it may become invisible which gives good effect if hotspot is present on the object. It means object's different parts can be clickable if there is invisible hotspot present.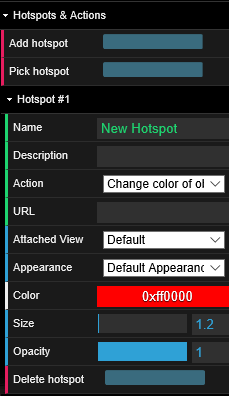 Created with the Personal Edition of HelpNDoc: Free iPhone documentation generator