Adding, Picking, Removing Hotspots
ADDING HOTSPOT
Simply open Hotspots & Actions menu from right side of program
Click on Add hotspots. The move your mouse over the scene and click where you want to place hotspots.
Hotspots may be present on object, floor or panorama.

PICK HOTSPOT
There is 2 ways to pick hotspot
1.Open the menu and select hotspot
2.Click "Pick hotspot" button then select on hotspot in the scene.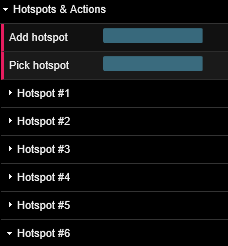 REMOVE HOTSPOT
Simply open hotspots menu and press delete under selected hotspot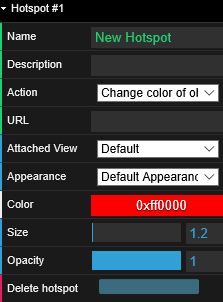 Created with the Personal Edition of HelpNDoc: Produce online help for Qt applications